I belong to a community at my school. We aren't an official community but we all like the same things so we end up as a community. We all play this game called magic the gathering by wizards of the coast. it is a fantasy card game. There are not many people at my school who play, just me and two other kids.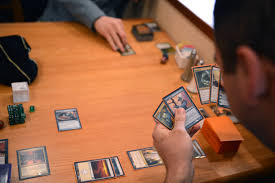 https://commons.wikimedia.org/wiki/File:Magic_The_Gathering_players.JPG
There are many pros and cons to this. One of the pros is that we can spend a lot of time playing our game without having to do a lot of coordination.  One downside however is that it can get kind of boring if you just play with the same people all the time. Also it is can be hard to get the new cards sense there are no card stores here. this can be really annoying if i want to make a new deck but can't because there are no game stores around.
Here are the blogs of my friends that play magic.
http://20zanec.edublogs.org/2016/11/11/magic-the-gathering/
https://20levin.edublogs.org/2016/11/11/is-simic-best-guild/